[ Reader Submissions couldn't help but notice some shenanigans and goings-on over the past week: ]
RED RIVER IS SURGING / SEND IN THE TROOPS!
NOT VOTING / TOO EXCITED ABOUT ROYAL WEDDING
DON'T BLAME ME / I VOTED FOR KODOS
TEXT WITH COLOUR? / MADNESS
I DON'T CARE HOW COLD IT IS / WE'RE SITTING ON THE GOD DAMN PATIO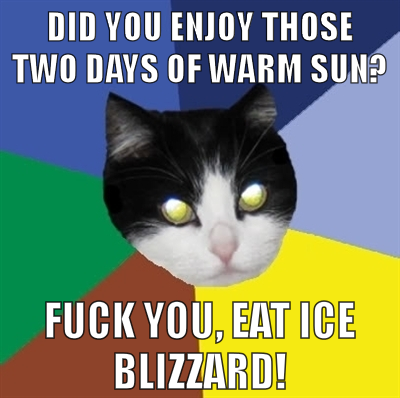 DID YOU ENJOY THOSE TWO DAYS OF WARM SUN? / FUCK YOU, EAT ICE BLIZZARD!
DISREGARD ROAD RULES / BLAME THE OTHER GUY
[ Reader Submissions appear every Monday via the (now fully-functional!) Winnipeg Cat Meme Generator. ]