[ Reader Submissions don't know where the month has gone so far and refuse to believe it's half over: ]
''FOLKLORAMA LLAMA'' / SAY THAT FIVE TIMES FAST!
PLANS FOR MASS RAPID TRANSIT / ONLY A DISTANT MEMORY AT THIS POINT
KNOW WHAT'S FUN? / LAUGHING AT THE ROUGHRIDERS
BURN / IT ALL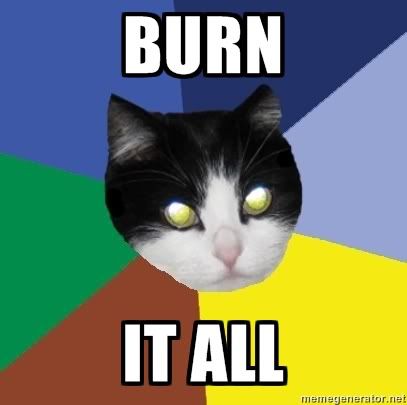 FREE PRESS CAFE RATED 4 STARS / BY THE FREE PRESS
WEATHER'S GREAT, NO MOSQUITOES, JETS ARE BACK,
BOMBERS ARE IN FIRST PLACE / ...IS THIS SOME SORT OF PRACTICAL JOKE?
IT RAINED / SHIT, WE'RE SCREWED
[ Reader Submissions appear every Monday courtesy of the Winnipeg Cat Meme Generator. Did you notice the tiny interactive submissions form in the right sidebar? Neat, right? ]