[ Reader Submissions care neither for eggs nor for foolishness: ]
WELCOME TO TODAY'S NEWS CONFERENCE / WOULD...WOULD YOU PLEASE STOP DRUMMING?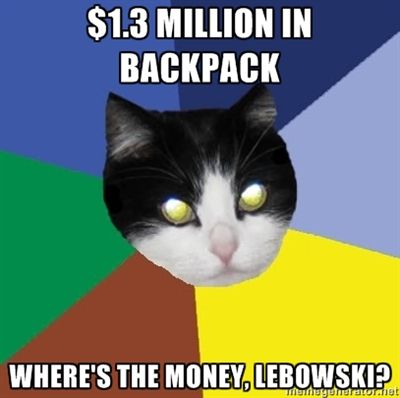 $1.3 MILLION IN BACKPACK / WHERE'S THE MONEY, LEBOWSKI?
WHO'S THAT RESTAURANT? / IT'S ARKADASH!!!
THIRD / SEED
WOULD YOU LIKE A ROAD / TO GO WITH YOUR POTHOLES?
PAINT LINES ON THE ROAD? / HELL NO
+1C / TIME FOR SANDALS
[ Reader Submissions appear every Monday, combination-holiday-and-seasonal-prank-justification or not, from the Winnipeg Cat Meme Generator. ]